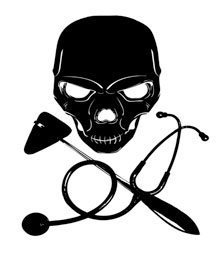 "How can you be so irresponsible?" shrieked mum, "If you don't go, I will give you a nice beating!"
I continued to stare at her with glaring eyes.
Seriously ma? I'm 24 and you plan to threaten me with a beating?
"Please, Sundar... Mummy is asking you only for your own betterment, yes?"
Now that's more like it!
"Alright... I'll go... Today... Happy?"
An hour later, I reached the clinic of a Dr. Lenin at No. 8, Gundu Salai, Natesan Nagar, Puducherry.
How on earth do people come up with a street-name like that: Fat Street? Fatso Street? Bomb Street?
It was my mother's friend who'd recommended this physician, as her own daughter had apparently witnessed magical results from treatment at his hands. I was skeptical, and so was the man seated outside the empty clinic on a rickety three-and-a-half-legged stool.
"Is the doctor in?" I inquired, only to make him stare at me with more skepticism, get up, and walk inside the clinic never to return. Impatient, I removed my shoes and walked towards the door crowned by Dr. Lenin's name-plaque, wondering if the "doctor who blessed his patients with magical results" would look like a tuxed magician with a tall black hat and a long shiny wand, or a priest with immaculate long and white robes, mustache and beard, holding a brassy
kooja,
with aromatic healing waters in it, in one hand, and a dusty-old
Rudraksha-mala
in the another.
I walked in, only to realize that the doctor had already decided to look just like the man on the rickety stool outside the clinic.
Darn it!
"What's your problem?" interrogated Dr. Lenin, no sooner than I sat on the "patient's seat" right next to his kingly chair.
I thought the doc's only magical; now I learn that he's also extremely
courteous and kind.
"Hair fall!" I explained, "My scalp gets very oily, sticky and itchy unless I shampoo my hair every single day. I'm not sure if it's the condition of my scalp, or the daily usage of shampoo that causes the hair fall."
He continued to stare at me skeptically.
I'm not lying to you doc, for god's sake! Trust me!
"Look at the ground!" he commanded.
"Sorry?"
"LOOK AT THE GROUND!" he roared, even louder.
I obeyed, wondering if I had somehow desecrated his (holy) presence.
What spell are you going to unleash on me, O magical doctor? Have mercy!
Click! He turned on his battery-powered torch and peered onto my head.
"Pediculosis capitis" he pronounced, after an intense round of examination long enough to stiffen my neck, as he began to pen his verdict on a prescription letter pad in wriggly letters. The rest of the prescription letter was written in perfectly illegible
DoctorScript
.
"Pedi-cu-losis ca-pi-tis" I struggled to read from the prescription letter, "What is it, doctor?"
"Dandruff!"
"Dandruff? But I've never had any white flakes fall off my head!"
"Pediculosis means scales... Scales... Mixing with oil... Getting sticky..."
Now why didn't I think of that?
He got up, walked to a few shelves hidden behind thick curtains at a corner of the room, and brought back pills in small paper packets. After giving out confusing oral instructions as to how and when I should take these pills, he comfortably placed his arms on the rests of his chair and gave out an
"Anything else?"
look.
"Thank you! What's your fee, doctor?"
"Four hundred... For the consultation and the tablets..."
Four hundred? I can't bargain with him, can I?
I handed out a 500 rupee note, which he examined with great care to ensure that it's not counterfeit, and handed back a 100 dollar note.
Things I could do with four hundred rupees... If it hadn't been for mum, and that nosy friend of hers...
Exiting the clinic, I put on my shoes as I sat on the empty rickety stool outside, and headed home wondering how silly it had been of me to have not known that I had dandruff for so long!
However, I was still skeptical.
So, as soon as I reached home, I switched on my computer and googled about
Pediculosis capitis
.
The results of the search blew my fuse.
Why?
Because
Pediculosis capitis
is the medical term for the mundanely common head-lice infestation!
Drat!!!
So the bottom line is, I ended up paying four hundred rupees to a crook who has diagnosed my hair fall problem to be caused due to lice...
...and having a bunch of hair in my hands that I pulled out of my head in complete exasperation!
Now you're happy, mum?
Epilogue:
I called up the doctor from the phone number printed on the prescription letter, and spoke to him 'naively':
"Hello! Dr. Lenin?"
"Yes?"
"I'm the patient you consulted minutes ago..."
"Yes?"
"I looked up
Pediculosis capitis
on the Internet and learned that it's the medical term for head-lice infestation. But I don't remember you speak of any head-lice. So I called to resolve the confusion. Do I have head-lice, doctor?"
"Internet explanations are always confusing. Don't worry! Take the tablets!"
"But, doctor, every article very clearly explains
Pediculosis capitis
as head-lice infestation. Also, no article speaks about dandruff or hair fall. What do you comment on this?"
"Eh... Lice causes dandruff... Dandruff causes lice... No confusion... Take tablets!"
"Okay, thanks!"
He's a crook alright!
Dear readers:
Here is a case of daylight robbery. If an educated man can be fooled and robbed so easily, how about the ignorant, illiterate, poor and needy people who seek his help?
I do have his hand-written prescription well preserved.
Is there a way to teach him a lesson?